• With designs inspired by Disney, Pixar and Marvel, popular homegrown brands in Malaysia are set to introduce an incredible slate of new collections throughout 2023, inspired by Disney's 100th anniversary
• In March 2023, Disney also hopes to share the gift of play with families in Malaysia, with a "Wonder of Play Wishing Well" activity in support of Make-a-Wish® Malaysia

As The Walt Disney Company celebrates its 100th anniversary in 2023, Disney Consumer Products, Games and Publishing in Malaysia will be unveiling exciting new collections and activities inspired by Disney100. The company will be joining hands with local and global leading brands across fashion, beauty, accessories, home and living, collectibles, toys and more.
Many people in Malaysia grew up with Disney and these timeless stories and unforgettable characters still resonate strongly with fans today. Disney100 is a celebration of the generations of fans, families and storytellers who have welcomed Disney into their hearts and been part of the joy for the past 100 years.
Malaysian brands release special editions for Disney100
The Disney100 collections will feature fan-favorite Disney, Pixar and Marvel characters in contemporary and stylish designs perfect for trendsetters of all ages:
Apparel and accessories: make space in your closet for these wardrobe essentials – Forest offers casual wear inspired by Mickey Mouse's classic silhouette, ready to pair with jeans or under a blazer to add fun and whimsy in the office; Pustaka Sri Dunia has released a Marvel-themed twill tote bag as well as a Mickey & Friends-inspired lunch box and tumbler; while Cream Couch presents a range of minimalist chic micro-bags inspired "Steamboat Willie", made from 100% premium vegan leather. More from local labels to come throughout the year!


Beauty: skin care brand April22's Skin Energy Series is now available in an elegant limited edition packaging featuring Mickey & Friends! Beautyra will also be introducing a Disney-inspired range, with more details to come.


Collectibles: Malaysian fans will be thrilled to discover Beast Kingdom's limited edition series of 40-inch platinum statues of iconic Disney characters such as Mickey Mouse, Minnie Mouse, Stitch and more. Royal Selangor also joins in Disney100 with limited edition pewter figurines inspired by Disney musical moments. Featuring Tinker Bell, Winnie the Pooh and more, there are only 1,000 pieces available worldwide for each character.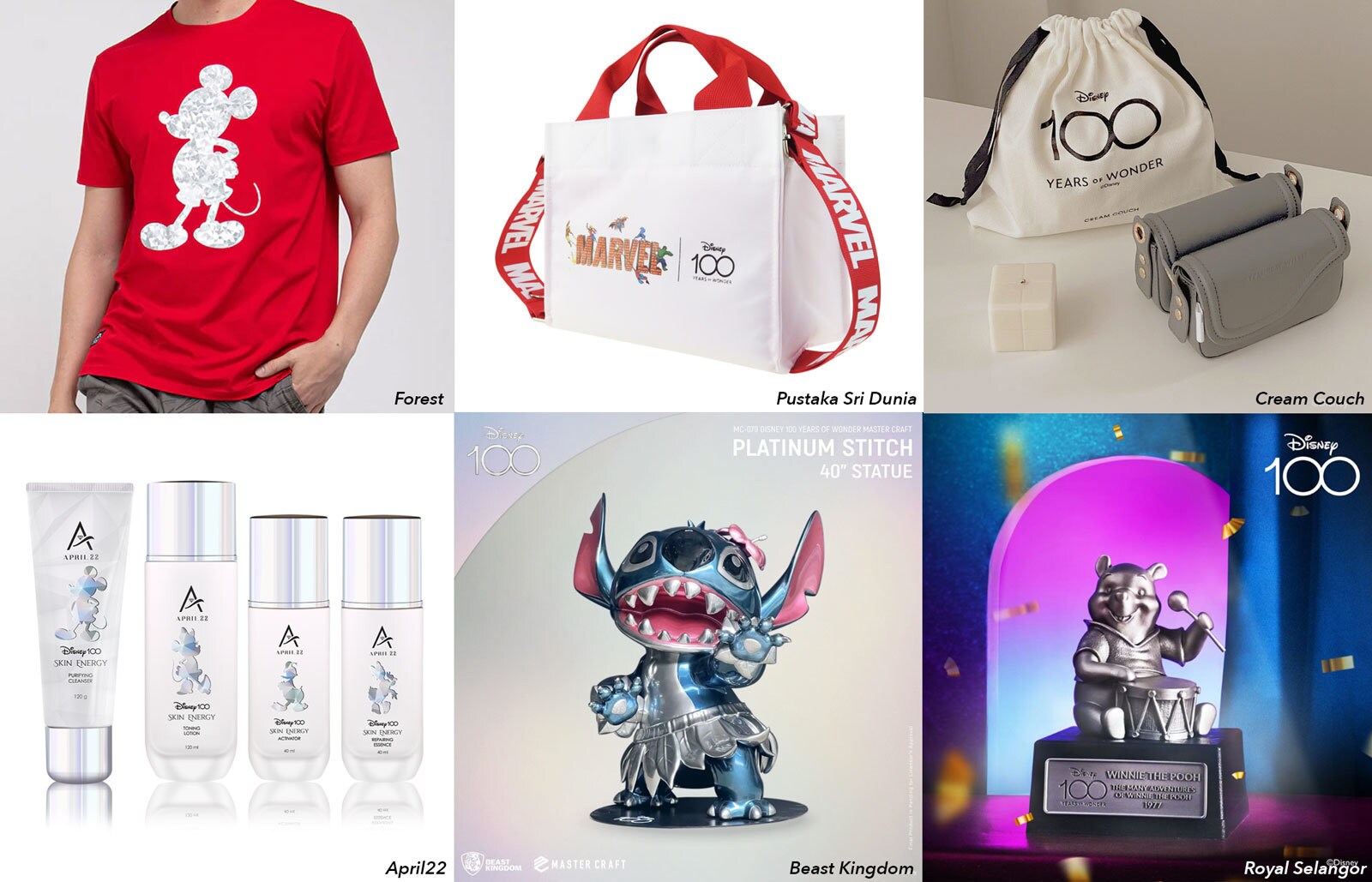 There will be more fashion, jewellery and home and living collections to come from Aurora, Common Sense, Goldtex, HABIB, Mr DIY, Padini, TT Racing and more leading brands. Find out more exciting updates at disney.my/disney100.
Discover the Wonder of Play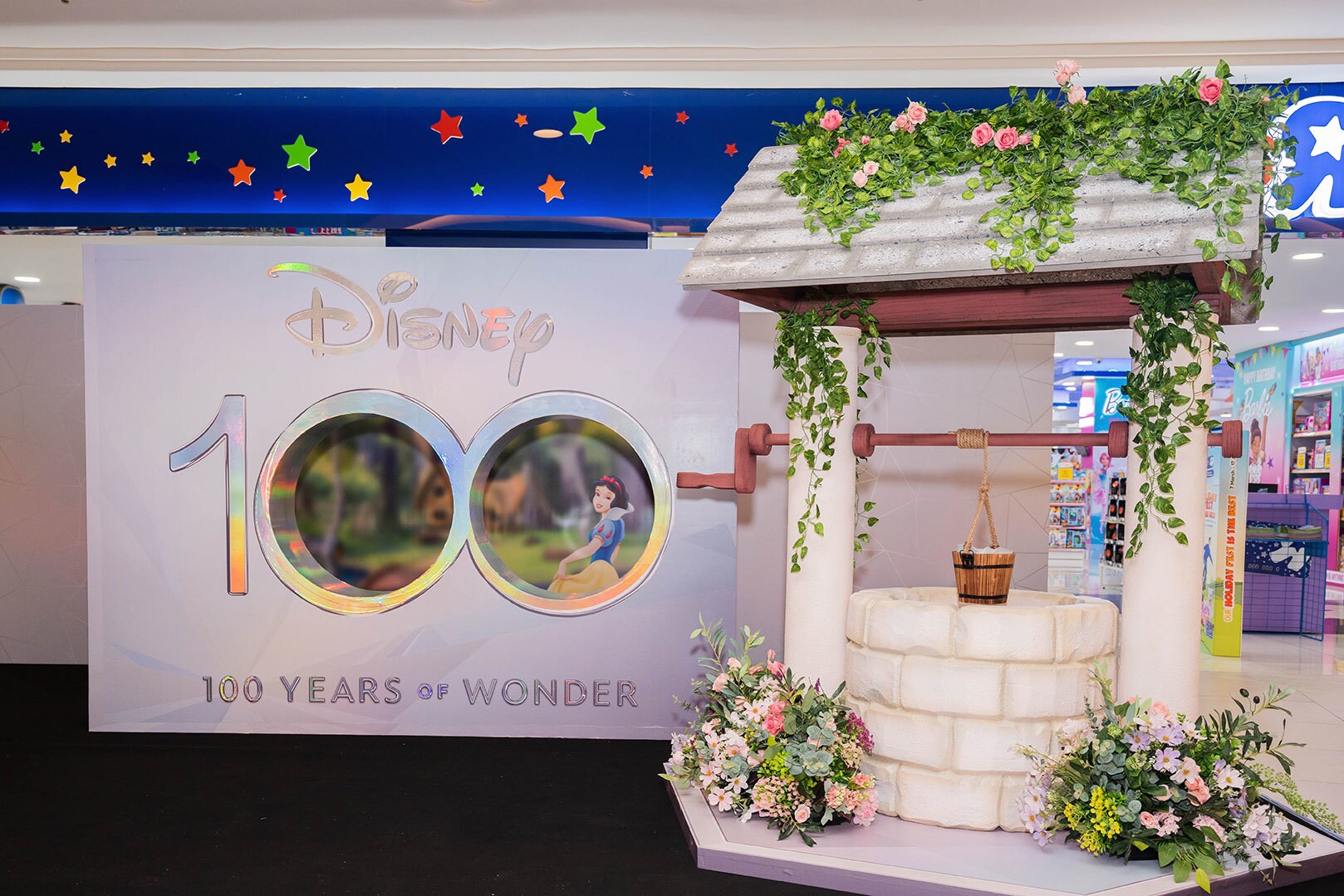 Wonder of Play Wishing Well at Toys "R" Us Mid Valley storefront
With 100 years of storytelling, Disney also hopes to inspire new playtime ideas and encourage families to unlock special moments together, every day through play. This March 2023, in support of Make-A-Wish Malaysia, a "Wonder of Play Wishing Well" has been set up at Toys "R" Us Mid Valley, to bring the "Wonder of Play" to families in Malaysia. The "Wonder of Play Wishing Well" will be filled with wishes from children with critical illnesses in Malaysia, where shoppers can share gifts and help make their wishes come true.
Make-A-Wish Malaysia believes these wishes from the children inspire imagination, build resilience and offer encouragement. To help make a wish come true, simply visit the "Wonder of Play Wishing Well", select a Wish Card, and purchase the gift that a child has been wishing for. The "Wonder of Play Wishing Well" will be available from 9th to 12th March 2023.
shopDisney collections celebrate Disney's timeless legacy
Numerous limited find release collections will be rolling out throughout the year in multiple waves on shopDisney Asia.
Before Mickey Mouse there was Oswald the Lucky Rabbit! The Disney100 Oswald Collection shines a spotlight this good-natured prankster, one of Walt Disney's earliest creations.


Filled with nostalgic hits from apparel to home décor, Disney100 The Eras Collection showcases fan-favorite periods of time in the company's history, including the early years of The Walt Disney Studios, Disneyland Park and more.


The Disney100 Decades Collections commemorates beloved Disney characters that have captured our imaginations throughout the past century. Starting with the 20s Collection inspired by Mickey Mouse in "Steamboat Willie", the series will also include classic stories such as Snow White and the Seven Dwarfs (1937), Pinocchio (1940) and countless others. Stay tuned for more at https://www.shopdisney.asia/my/disney100

About Disney100
Disney100 commemorates The Walt Disney Company's 100th anniversary through an offering of unparalleled content, experiences, and collections. This once in a lifetime event celebrates the storytellers, fans and families who together spark the wonder and magic of Disney.
About Disney Consumer Products, Games, and Publishing (CPGP)
Disney Consumer Products, Games and Publishing (CPGP) is the division of Disney Parks, Experiences, and Products (DPEP) that brings beloved brands and franchises into the daily lives of families and fans through products – from toys to t-shirts, apps, books, console games and more – and experiences that can be found around the world, including on the shopDisney e-commerce platform and at Disney Parks, local and international retailers, as well as Disney store locations globally. The business is home to world-class teams of product, licensing and retail experts, artists and storytellers, and technologists who inspire imaginations around the world.